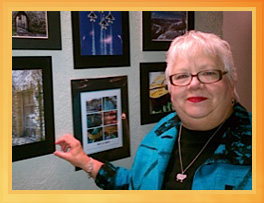 Margie Trembley
I began my career in glass art after taking up glass beadmaking as a hobby.  I immediately fell in love with all art glass mediums.
My art work today has progressed to architectural and sculptural glass. My largest architectural glass project was etching and carving 12 windows for a senior care retirement center in the Chicago area.
I have been fortunate to learn from some of the top glass artisans from the US, UK, New Zealand and Japan. While serving on the board of directors of the International Society of Glass Beadmakers as their international representative, I had an opportunity to develop relationships with other glass artisans from around the globe — by both working with many of them within the organization and visiting studios in the UK, France and Japan.
Recently I have ventured into wearable art and silk painting after being exposed to those mediums in the Chicago area.  Even though I have not given up designing, etching and carving glass, my main current interest is wearable art, surface design, mixed media and fiber art. I am designing fabric using my own photography and Japanese art skills.
I have exhibited my art work in the following exhibits:
"Tree of Life" exhibited in Little Rock, AR at "Connecting Threads", a SAQA Regional
Exhibit of Contemporary Art Quilts, Spring – 2012
Fine Art of Fiber at the Chicago Botanic Gardens, Fall – 2009
Lauritzen Gardens "Art in Bloom", Omaha, NE August – 2009
Morton Arboretum, Botanical Art Show, Lisle, IL June – 2009
Highland Park Art Center, "In View" all- members show, Highland Park, IL June – 2009
Art Of Lisle, 50th anniversary juried show,  Lisle, IL –  2006
International Society of Glass Beadmakers Gallery Exhibit, Portland, OR – 2004
Fine Line Creative Art Center Student Exhibit,  St Charles, IL – 2004